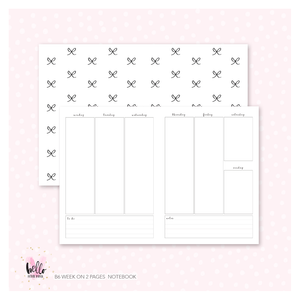 B6 WEEKLY Insert for Travelers Notebooks
PLEASE NOTE: THIS PRODUCT MIGHT SHOW IMPERFECT STAPLES.
Notebook details:
- 32 pages
-Stapled spine
-Glossy finish covers - pink background with white bows.
-Professionaly printed to order
-160 gms white paper (heavy weight)
- B6 size (no.5) - 130x180 mm
Ships from Portugal, with tracking.
Please check the
FAQ
page for complete info!